Send Ron Your Comments For Display
---


Another Ron Johnson Custom Rebuilt Javelin
Ron's named "Ted Nugent Special!"
---
 Another new American Record for Kim Kreiner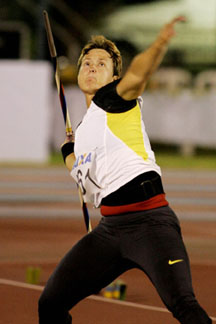 Kim Kreiner unleashes her 64.19m Area Javelin record in Fortaleza
(Wander Roberto de Oliveira/CBAt) 
64.19m Area Javelin record and world lead for Kreiner in Fortaleza
Thursday 17 May 2007

Throwing the Ron Johnson Red, White and Blue Special.
---
Christina Scherwin – Womens Danish National Champion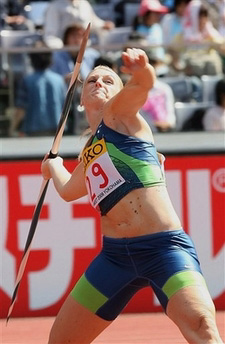 Throwing 62+ meters with a Ron Johnson Custom Rebuilt Javelin.
---
Greetings Ron,
I wanted to thank you for the competition javelin you customized for me this past season. I wanted to share the good news and tell you that with your javelin, I won my conference meet and set the conference record, won the ECAC Championship, was runner up at the IC4A Championships and broke the NCAA Division III Championship meet record and the All Time record. I am now the number 1 javelin thrower in D3 history, and it was with one of your javelins! I think the javelin looks great and obviously it flies through the air perfect!
Thanks again,
Timothy VanLiew
Mr Johnson,
Just wanted to let you know the javelin that you had rebuilt for my son Chris Carper has propelled
him to another level. He has qualified for the NCAA National Championships in Eugene this coming
weekend and will be throwing your javelin. He also won four of the 7 meets he has competed in this year with
2 meet records, including the NEC Championships.
Again thanks for the great job you did. He looks forward to using this jav for quit some time.
Sincerely
Wilson Carper
Ron, My Sandvik 80m Elite looks fantastic. I like the matte finish on the new tip and the hot red metallic candy st>ip is great.The new blue grip makes this . a true-blue USA special. It should come in very handy at the 2011 World Masters Champs inSacramento. I can't wait to get this refurbed jav. flying through the air. I would strongly recommend your services toanyone thinking about rebuilding their javelin. Thanks again. Scott Hannay NY ( jav. thrower since 1982.)
Hi Ron,
I just wanted to send you a quick note to thank you again for the beautifully painted javelin that I took with me to Finland to compete in the WMA World Championships in Finland. Everyone there was very impressed with my "custom javelin" and I was able to win the gold medal with it! Admittedly I was incredibly nervous so I was unable to throw as far as I'd have liked, but the javelin worked great, and it will be known from here on out as the "Flying Finn"!
Thank you for making a great experience even better!!
Sincerely,
Linda Cohn
lGot our disci today.  I laughed outloud when I opened the packages.  I mean, who has stuff like this?  ——————-ME!  This is really great.  Totally worth the wait which was no problem for us.  You will have to tell me whether it was worth your time.  I really like the product and while there is no problem with a solid silver discus, as far as a rebuild goes, why not treat yourself to a customized item?  Kids love new things, but once you customize, how do you take the new discus just like everyone else has over the unique Huskers-only product?  If this was a one-time only job, you have my sincere thanks.  If this is something you might do again and again, congratulations on a clever new product.
Mark Colligan.
Nebraska Track and Field.
Ron:
I took the javelin to the track up in Myrtle Beach today. When I took it out of the tube for the first time I was extremely pleased with the workmanship and package. The javelin feels like it was made just for me, so the balancing appears to be spot on. And it's beautiful! I'm still working on technique, so I'm not doing full out throws, but I am very pleased with the implement. Thank you, it has been a pleasure doing business with you. I'll be sure to have your business cards with me next week at the meet. And I will throw in the meet, even if my shoulder will not allow for full effort. Gotta show this baby off!
Mike Baker
Ron:
Wanted to let you know that on my first throw during the heptathlon 
today, I broke the US record in the javelin for W70-74. I threw 
27.40m or 89′ 11″. The existing records was 25.58m.
Thanks, again, for your good work on my javelins!
Becky Sisley
Ron,
You were right! Vince used the javelin Saturday at PA District 1 AAA meet even though there was not a tailwind. He PR 5 out of 6 throws breaking the Delaware County record and the District Record! Best throw 210.7 He is headed to States on Saturday and I'm sure he'll be throwing it tailwind or not!
Thanks!
Helen
Hi Ron,
I just wanted to drop you a note and thank you again for the help and advice you gave us on what type of javelin would best suit our son Brady, who is a sophomore. He sure is enjoying it. He threw it 162 feet at a track meet this week, his best throw ever!!
We will recommend you to anyone that is considering a javelin.
Thanks again, 
Kathy Berntson
Hi Ron,
I just received the 6 re-built javelins…they're beautiful. You did an amazing job, thank you so much. I will be sending you another batch after the 1
Have a great Holiday season.
John Knox
Head Coach Track & Field
Orange Coast College
US military academy (West Point) got theirs back and he (Knut Hjeltnes) was happy,
also saved them $3,000.Good job ron!!! They looked brand new.
Tom Petranoff
Adam Burke…I concur.
Ron is the master re-builder!
I just got 2 javs back from Ron and they look great. Quick turn around, beautiful work and attention to detail. Dick Held trained him so your spears will be in good hands. I've rebuilt my javs twice and unlike me they do get better with age.
Hansen
Ron built the 100 meter plus javelin used by Uwe Hohn in the 1980s as well as the javelins used by Zelezny for his last two world records. No javelin builder can top that.Ron is the best. He regripped and built the top javelins for Pacer in the 80's and the OTE's in the 90's. Petranoff, Puksty's and Zelezny all used javelins personally finished by Ron Johnson.
Dick Held
Here is a great way to make your old javelins brand new again. Have them re-built. I just had three re-built myself and they look fantastic! One of the best re-builders I know is Ron Johnson. My thanks go out to him for making the sport affordable for the general population!
Coach B
Mine came back bad…Just joking Ron!
I sent in an old custom Sandvik Airglider. It came back with fresh paint, new, very good grip, and with a new point. I mean, it is like having a new javelin without the great expense. I haven't thrown it yet, I retired! But, I have some promising youth who will give it some flight.
OTE/Gill has stopped rebuilding javelins, a real shame, but we have the person who was actually building javelins for that company in the past available to us now so I will just say…send your javelins in to Ron.
Tom Pukstys.
To be sure, Ron!
Little Mikey took your recap' work of his brand new OTE 2880 (w/ blunt nose-tip) out for flight-testing yesterday. After routine stretch-out n' warm-up, he two-stepped a few 180′, then added-up with a few five-step 195′ impacts.
His elation with the flight performance of the unit was impossible ta' contain at his end, "It flies like the Record-Maker (another reconditioned Ron Johnson work)!"
Michael tests the rebuilt Sandvik Super-Elite 90 and Apollo 90 today.
King's HS Head Coach Daunte Gouge n' AD Coach Dan Blackmer are spreading the word, here in the ol' State o' Washington about what you did to our 15 javs'.Nothing short o' AMAZING!
Coach Wright
One VERY HAPPY customer
Out A.D. John Keever (ex throws coach) was ASTOUNDED by your work !!!!!! I put a post on the RING also…I'm headed to a couple camps and I want to be able to give a GREAT source!
Coach Mac
Ron, 
The two pre-2002 RT high school javelins you converted to meet the new specifications arrived this afternoon. To say that we are truly pleased with the craftsmanship is the understatement of the year. We never thought that the Sandvik that had the unfortunate encounter with the goal post would see another competition, but you brought it back to life, now straight as an arrow, with a school color custom paint job to boot. The conversion of the OTE will now give Son #2 the opportunity to use the same javelin his brother used to win the Washington 4A championship in 2000. The white stripe we had you add sets off the purple anodized finish beautifully. Quick turnaround, reasonably priced and outstanding craftsmanship, another satisfied customer!
Thanks again,
Mike Schwisow
Ron, the javelin looks great!
I really appreciate the work you put in on it, I am impressed with the quality of your work. My guys are pretty excited and cant wait to take it to a meet and try it out.
Let me know if there is anything I can do to help you out, I will certainly sing your praises to anyone I run across.
Sincerely, 
R. Joshua Langley
Assistant Track and Field Coach
Gardner-Webb University
They look incredible. You are an artist. I hope you are training an apprentice, 
Eric can't wait until we get outside on the 28th and throw them.
Andrew McDonagh
Wal-Mart Store
Volunteer Throws Coach
Hi Ron, 
I just threw first practice today with the javelins you rebuilt. I hit a new practice PR right away. 
Great work on the javelins. Nice paint job and great grips. I'll put a good word out for you.
Mika Alahaivala
Missouri Southern State Univ.
Ron,
That was a massive job we sent to you and I am impressed by the results. Some of the javelins I sent to you I thought easily belonged on the scrap heap. Most of those will make an excellent competition javelin for someone now. Some I sent you were just off enough on balance and finish to argue the need for a new javelin. Some of these came back so nice that I wouldn't trade them for a new model. I appreciate the special finish on the Nemeth 85m you did for us and thanks for HUSKERIZING most of the other javelins in custom red and white.
Mark Colligan.
University of Nebraska



Ron,
Last month you converted a women's old rule Apollo javelin for us. This weekend our girl whose previous best ever was 48.11 threw it twice over 52 meters, the longest 53.12m. She is now in the top 5 in the NCAA. Just thought you might like to know. 
Mark Colligan
University of Nebraska
Ron,
What a Superb job you did on my Javelin. It's AWESOME man. You're right, it is one of a kind. When I unwrapped it I just said WOW!! My wife and student just looked with dropped jaws and both said, "BEAUTIFUL". Everyone here on the FORUM ever need work done on your Javelins, Ron's the Main Man. 
All I can say is, Ron does Exceptional work. Thanks a million Ron, and I'll be sending more your way soon!
Greg Geraci
Ron, 
I wanted to thank you, once again, for the work on my Jav. It looks absolutely fabulous! I could have cried when I opened it up (I know that might sound odd, but even though it's just a throwing implement, it means allot to me.) To be able to throw it in competition again is like reuniting Batman and Robin! I will definitely spread your name out there!
Thanks again!
Becki Carman
Ron,
Got the javelins on the 9th like you said. They are great. Athletic department has the invoice and is processing it. Thank you for your timeliness and amazing craftsmanship. The javs themselves will be great motivation for my throwers this coming spring!
I will definitely be recommending your services to any and all coaches in our area who may be in need of repair or rebuilding.
Thanks again,
Mark
Ron,
The javelins look great. Hopefully they will fly far! I will definitely be sending more in the future.
Michele Curcio
Lafayette College
Ron,
WOW, I love them; Great Job!, The rainbow one is awesome. Get me a bill so I can get you paid ASAP. I will probably send one or two more this winter once the fall is training season is over.
Sincerely,
Brian Forrester
Throws Coach @ The University of Akron
www.uakron.edu/track
Go Zips!
Ron Johnson Rebuilding,
I know this is not news to most people that read this forum
BUT… we recently sent a couple of javs over to Mr. Johnson to be worked on and they came back looking just terrific. I can't imagine us ever sending javs any place else. Anyway just F.Y.I. and thank you very much Mr. Ron Johnson.
Matt McGee 
Assistant coach 
Washington State University
Hello Ron,
I just wanted to thank you for all the great work you did with rebuilding
our javelins. The MU spear throwers were excited to see and use the
rebuilt and custom painted Javelins. Keep up the good work, and I'll
definitely send more business your way in the future.
Sincerely,
Coach Abraham G. Flores, M.Ed.
Monmouth University Track & Field
Ron,
Yes, we received it and it looks great! Alyson will be home from school in a few hours. She just took her last final prior to Christmas break. I'm sure she's looking forward to practicing over the Holidays. Once the coach sees the custom paint, (school colors / purple and white) maybe he'll begin ordering all his javelins from you.
Thanks again. 
Tom David
Ron,
Just want to let you know that the 80 meter sandvik I purchased from you at the beginning of the summer has been 
excellent. With the development of the soft step approach and your javelin, my marks have substantially increased, and I'm looking to make a run at NCAA Division 3 nationals this year. Great javelin, thanks again. You have my business to re-grip and possibly re-powder coat it in the future.
Sincerely,
Jonathan Zabron
Ron,
THEY ARE AWESOME!!! I was blown away when I got them out of the box. They look and feel better then when they were new! I can not believe you were able to save the Super Elite 80 since it was dented badly, but you did Thanks. That Jav means allot to me it was the first one my parents bought for me. You did a remarkable job and I will definitely be sending people your way. Thanks again, I am amazed at how awesome they look. 
You truly are a master!
Dan Gale Jr.
Ron,
We just received the javelins yesterday, and we couldn't be happier. They all look like brand new implements and the paint jobs are incredible. The swirl came out perfect and looks great going through the air. We'll be sure to look you up for any other refurbishes in the future.
Mike Erb
Head Coach, Men's and Women's XC/T&F
University of Redlands
Go Bulldogs!
Ron,
Thank You Sir.
Everything looked great. From now on you are the man!!!!!!!!
Tausha Smith
Coach@University of Nevada Las Vegas
Ron, 
I received the rebuilt javelins from our shipping department yesterday afternoon. They're great!!!!! Just wanted to drop you a line and say thanks for the effort and saving my budget. 
Thanks again, 
Dale Cowper
Northridge Track and Field
Just received our javelins back……..WOW, they are super!!!!!! 
Anytime someone has a questions as to how well they are rebuilt just
tell them to e-mail me……..Thanks a lot,
Tom Cecchetti 
Kane High School AD and 
Head boys track coach
My girl has thrown in two meets thus far @ Raliegh Relays she went 170' for a 11' pr and at Charlotte yesterday she went 171' 10". 
Brian Forrester 
The University of Akron 
Track & Field Throws Coach / Men's Recruiting Coordinator
Ron:
Got the rebuilt javelins just time to take them to our first meet on 
Saturday. My best guy loved the white/black swirl Sandvik so much he 
decided to throw it 197′. Not bad for his first meet out!
I have not seen the blue/gold one yet – he is hiding it from everyone – 
but from the other two you did – they sure look great. Thank you for a 
job well done.
Bill Ross
Allegheny College
Javelins arrived and they look absolutely amazing. I can't wait to show the kids 
tomorrow and for it to warm up a bit so we can get outside and put them to good use. 
Thanks for everything.
Chris
Ron, 
I got the javelin tonight when I came back from lifting. Its AWESOME, 
better than I first thought it would be! I really appreciate it! You 
might be receiving more javelins from me in the future.
Thanks again!
Cody Summerville
Hi Ron,
Sorry I haven't written sooner, but just wanted to thank you for the great job on the Javelins. The Javelins were so weathered from Vermont training, I figured you would send them right back. Instead I got 2 brand new javelins that fly perfectly.(weigh in right at 800 on the nose). Last week I threw the reconditioned champion into a strong headwind at the East Regional Championships, and won the meet with 59.50 meters. A seasons PR. Looking forward to getting them both over 61 meters this year. I will recommend you services to any thrower.
Best of Health,
Ron McConnell
Hi Ron, 
thanks for the excellent job with the javelins! They all look and feel really good. The grips are excellent.
We have been testing them and they fly very well too. The two OTEs seemed to fly the farthest in our last practice.
It might be the thicker tips. Thanks again for all that work, 
Esko Mikkola
Ron,
Thanks again for your quick response in repairing the two javelins. It increased our javelin inventory,
and saved me budget money. I will recommend your service to other coaches and definitely will use it again when needed.
Yours in Track & Field,
John Heims
Ron,
We sent you four Ford Pintos and got back four Mercedes'! Wow, they look
fantastic, thanks for your craftsmanship and support. Let me know if
there are any instructions or final things I need to do.
Happy Thanksgiving to you.
Tommy Decker
Head Coach – Thomas Jefferson HS
Boys Track and Field
Ron,
I just wanted to send you a note and thank you for the work you did on our javelins.
We started practice about two weeks ago, I was having trouble finding kids interested in throwing the
javelin, that is until I brought out those you re-worked for us. I wish you could have seen the excitement!
I also brought them to show those in charge who paid to have the work done… they also were very impressed! 
I only wish I would have taken pictures before so that they would really appreciate the job you did!
Again, thanks a million!
Ronnie Bagala
Head Coach
Ascension Catholic High School
Ron
Thank you so much. My father had my jav rebuilt for Christmas. You did an incredible job. The tip, the grip, the shaft, it's all perfect and it looks incredible. I can't believe its the same old javelin I've been throwing for years. You did an amazing job. I can't wait for this snow to clear out so I can get some outdoor practice in. Thanks a bunch. 
Andy Sims
Ron, 
We recieved the javelins yesterday after we returned from spring break, and they are absoultley gorgeous!!! Wonderful job with the swirls! Excelent job, and we will definiatly be sending you more in the future!!!
One happy Jav Thrower, 
Nate Hardic
Slippery Rock University
Ron, 
Got the jav's in today. WOW — great job ! There is no way to tell that these are not brand spanking new. Quality job all the way through. Thanks for saving our club money. Money that we can use to further help our kids.
Thanks again.
Marty Sonnenfeldt
Knoxville Track Club
Youth Athletics Director
Hi Ron,
Robert Hintz won the 3A state title in the javelin on Friday with a new 3A
State Meet record of 211″ even. He was throwing the spear you built for him
when he set the record, and I'm convinced that he would not have thrown as
far if he had been throwing any other javelin we owned. I've attached a
photo showing him right after release; note the amount of flex even with the
very stiff spear. And this throw was pretty close to right through the
point, though he did drag the tail just a bit. If he had hit it dead
through the point it was probably a 215+ throw.
Anyway, thanks for your recommendation of the 90 meter tailwind javelin for
Robert. As I said earlier, I believe this javelin was a big factor in
Robert setting the record.
Tom Ellis